FMF RACING: FMF TAKE 20
---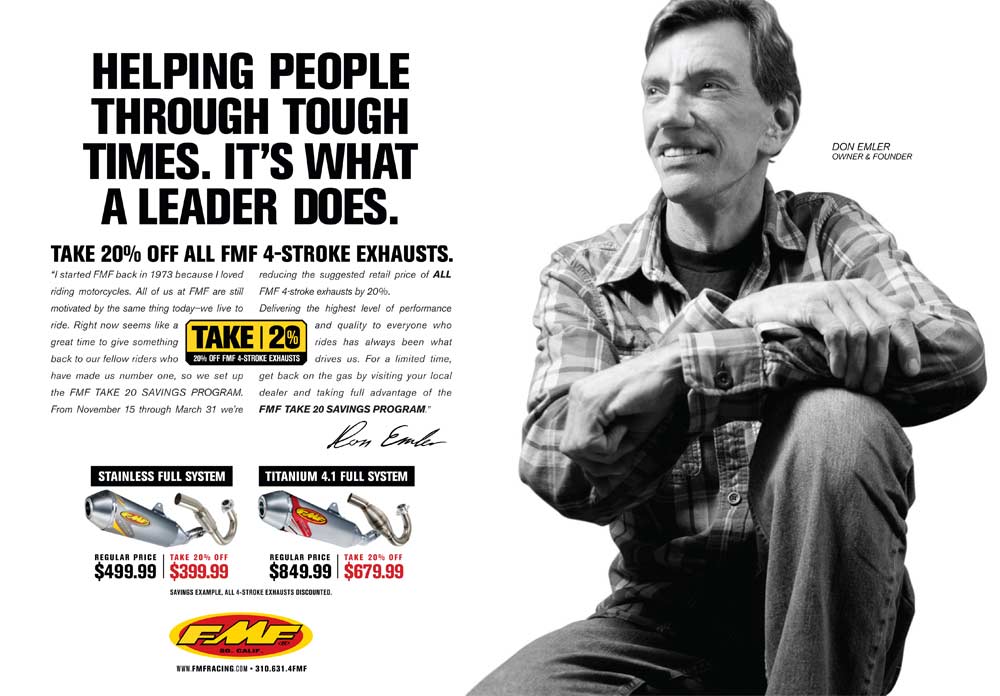 Today's challenge: the economy. During the depths of the recession, FMF challenged us to come up with a new campaign directed toward customers facing hard times. The solution was clear: Claim the leadership position, and give something back. HELPING PEOPLE THROUGH TOUGH TIMES. IT'S WHAT A LEADER DOES. This was the beginning of the TAKE 20 program, a huge success for FMF.
Their concept was simple: Reduce the price of 4-stroke exhausts by 20%. The effect and underlying messages accomplished a complex set of goals. The TAKE 20 promotion levied huge stress on their competitors. As the market leader, we recognized FMF had staying power other manufacturers couldn't touch. Because they manufactured in-house, they had extra margin to work with. The campaign forced some companies to match the discount, selling product at virtually no profit.
We consistently market FMF as an American-made product. This resonates especially well in the world of dirt bike riders. The ability to offer the TAKE 20 program was due to their made-in-the-USA vertical-manufacturing business model. Chat forums lit up, phones started to ring, the media was talking. FMF gained a huge surge in business, and in customer loyalty.