FMF RACING: HELPING A MARKET LEADER BUILD A POWERHOUSE BRAND
---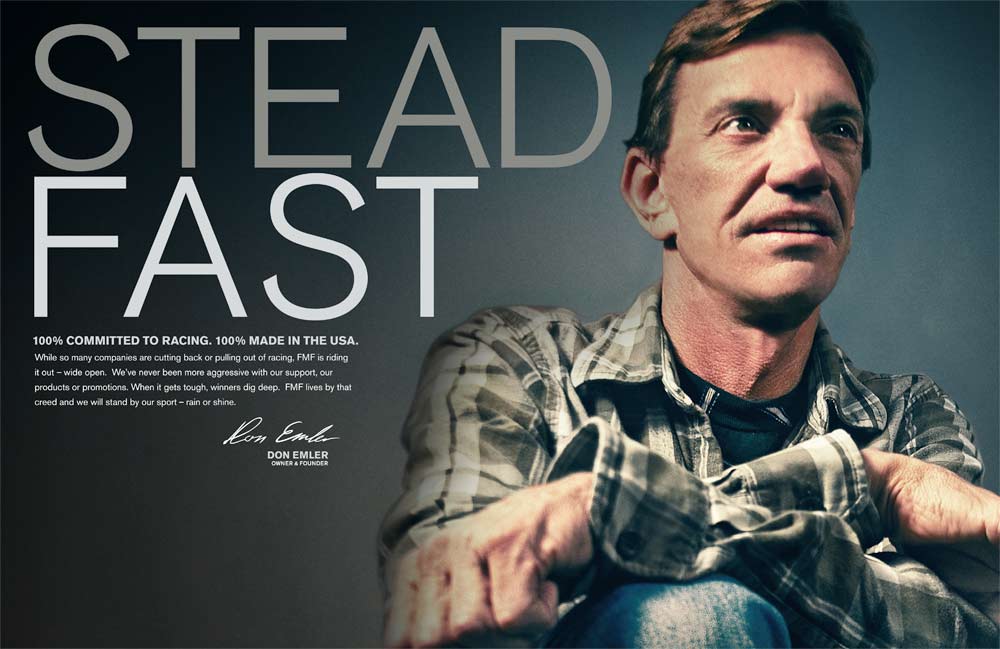 Six years ago, we started Taylor Creative with one client: FMF Racing. FMF is an iconic brand in the world of motocross. Founder and Owner Don Emler's intense passion for his company was clear from the beginning. He understood FMF's brand presence in motocross had the potential to transcend their core business of designing and manufacturing performance exhaust systems. He saw the FMF logo being used by enthusiasts to identify themselves as dirt bike riders.
Don and his son Donny challenges us to consistently create national-caliber ads designed to sell product and build their brand strength. They continue to rise above their core business, and to penetrate other markets. The work we did for FMF over the first three years translated into share-of-market growth and increased brand awareness. According to FMF, we changed the motorcycle industry. The quality of our design and creative forced their competitors to spend more on advertising, and companies throughout the industry were looking at FMF as the benchmark for quality.
Today, FMF is more than a performance exhaust company. They recently inked an agreement with the La Jolla Group, the most successful apparel-licensing company in action sports.
The management at FMF sets a perfect example for what can be accomplished by taking risks, committing to advertising, and having a clear goal in mind. It's been a great ride.
"Taylor Creative brought consistent professionalism and quality to our advertising program. They not only elevated the quality of our work, they raised the bar for the entire industry."
Donny Emler | Marketing Director | FMF Racing